Thoughts from the Desk of Bob Repass…
If I were asked to share one piece of advice that I think is crucial to being successful in the note business it would be "Always put Relationships before Transactions".
That is something I have always strived to do since I got started in the note business in 1990. As a matter of fact, to this day, I still get deals from people I reached out to back when I first got started and over the years we have continued to do business. The lesson I learned way back then was if you want to keep a client for the long term so that loyalty is in place and transactions just spin off that relationship, put relationships before transactions.
Here's a quick story to that point. In 1997 I relocated our family to Dallas to take a job with The Associates to run their Private Mortgage Operation. Funny thing is, I was offered that job based on the relationship I had formed over the years with the SVP of Associates when I was working for Metropolitan Mortgage & Securities and we were competitors. We would see each other at trade shows and formed a bond. We realized there was enough business to go around and what may not fit my "bucket" might fit theirs.
Fast forward to today, over 20 years after moving to Texas and both of us taking different career paths, he runs the trade desk for a large capital firm here in DFW and has been selling us assets ever since we started our fund almost 5 years ago.
Here's another story. In 1991 I met this guy from Texas named Eddie Speed. This is when I was working for Metropolitan Mortgage & Securities. I did not deal directly with Eddie, but I met him at numerous events that Metropolitan held for our top brokers and counterparties.
When I relocated to Dallas in 1997, I started dealing directly with Eddie. Eddie and his firm, Colonial Funding Group, was what we referred to as a "master broker." He would go out and aggregate loans and then sell them to us in bulk. This continued not only during the time I was at The Associates but during my time at Bayview Financial until 2008 when I had to make the phone call to Eddie and tell him Bayview was exiting the seller finance space due to what was happening in the markets.
The lesson we learned here was if you want to keep your clients even when the market tanks and everybody else is bailing, put relationships before transactions.
Do you think Eddie would have brought me on board or that I would have wanted to join his team if there wasn't a history of trust, honesty and loyalty? I know when you hear business is really about the relationships, not the money, sometimes your reaction may be "yeah, yeah I hear you" but I can tell you from almost 30 years of experience, sticking to that philosophy has proven pretty darn successful for me!
Are you building and maintaining the relationships you need to be successful?  One key step is to make contact and connect with your clients and prospective clients on a regular basis. One great way to do that is to attend industry wide events such as NoteExpo 2019 being held in Dallas on November 1st & 2nd. Register today and start setting appointments to meet up with your clients and thank them for your relationship.
Bob Repass
Managing Director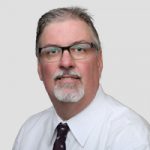 Stay up to Speed with Eddie
An Event You Just Can't Miss: NoteExpo 2019
by Eddie Speed
Have you ever wondered why we created NoteExpo? Watch this quick video to learn the history behind why we started NoteExpo six years ago. And why we wanted to create an environment for the small real estate and note investor to have a brain trust with like-minded people!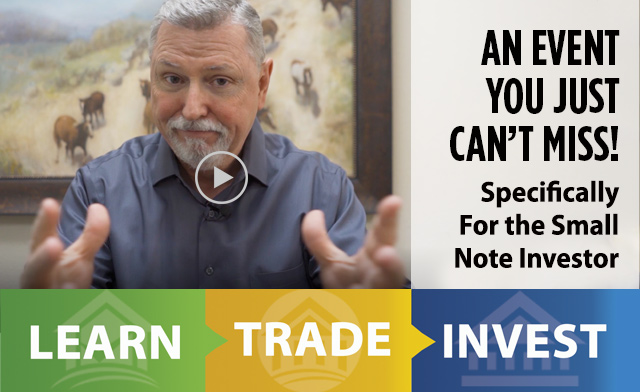 The 6th annual NoteExpo takes place November 1-2 in Dallas. NoteExpo 2019 is more than a conference, it's THE industry event of the year! It's the place where solutions are uncovered, ideas evolve and the future of the note industry is shaped.
Click Here to register and we'll see you at NoteExpo 2019 November 1-2 in Dallas!
Capital Markets Update
Common Sense Guide to Money Management
By: Ryan Parson
A recent CNBC survey from June 2019 reveals that only one in four Americans has a financial plan created in consultation with a professional planner.  Of those, the majority only encompass traditional investments and do not contemplate the benefits of alternatives.  Looking at it another way, roughly 75% of us go it alone when it comes to managing our finances.
This isn't to suggest that the Do It Yourself (DIY) approach is a bad thing. What is unfortunate is having no plan at all, especially when alternative investments are being utilized for current income and growth. That's a mistake none of us can afford to make, so the sooner we can get started with an organized plan the better.
Bearing that in mind, here's a list of bullets we've put together to help you think through some of the fundamentals of managing your money:
Make a Plan:
This is essential to your future success. Keep it simple with clearly defined, measurable goals so you can make adjustments along the way if need be.
Start Investing:
Determine your comfort level and allocate a specific amount of your income to invest each month. This is true even if you are enjoying passive income from either traditional or alternative investments as reinvesting some portion of that income helps to further diversify your holdings.
Create a Budget:
Create a "cost of living" spreadsheet with your monthly income, expenses, and a realistic amount you can save or invest each month. You must know your expense ratios in order to properly plan your passive income needs.
Think About Retirement:
We'll all retire one day (and that isn't just at the traditional age of 65…some of us do it much sooner than that and at many times throughout our lives), and the more we've put away the more comfortable we'll be as we truly live our best lives. If you haven't started a retirement plan, determine how much of your earnings you can allocate to 401(k)s or other retirement plans. The earlier the better here.  Traditional vehicles like 401Ks do have their downsides though so don't limit your thinking to just those types of accounts.
Reduce Debt:
Have you built up significant credit card or other forms of debt that are preventing you from saving or investing? Now's the time to take steps to become debt free. This could easily be step one in the entire process. Not owing anybody money allows you to be much nimbler, particularly during periods of market corrections.
Eliminate Fees:
You could be paying fees without realizing it. Take a close look at your statements, bills, and other monthly payments and determine how much you're paying in fees that you can work to eliminate.
Review Your Statements:
Whether you're saving for college or planning for retirement, it's important to spend some time analyzing your accounts to determine if you're progressing, stuck in neutral, or going backwards. What's your goal? There's no room for surprises here.
Take Control Now
 It's important that you have a plan, set a budget, take a close look at existing debt, take steps to eliminate it, and then begin investing and saving for your future.  Whether its college, a second home, or retirement, an organized plan is essential in starting you on the path to meet your goals.
If we can be of any assistance as you think through your wealth plan and what it takes to be truly organized, please do not hesitate to reach out to us.  We would welcome the opportunity to talk through these ideas with you.
To your financial success!
The Trading Corner
Are You Vetting the Note Seller

By: Tracy Z. Rewey

We just returned from Quest Expo where over 600 investors gathered to discuss creative strategies for growing a self-directed retirement account.  Real estate notes were a popular vehicle and the topic of several panels I was honored to participate on as a speaker.
There was lively discussion on the cornerstones of underwriting a note with due diligence tips on analyzing the borrower, the property, the documents, and the payment history.
But are you vetting your note seller?
With so much data at our fingertips to dissect the note itself, it can be easy to lose sight of who is selling you the note.  It's just as important to perform due diligence on the seller.
This can differ depending on if it is a "mom and pop" seller with just one seller financed note or a professional in the business of creating, buying, and selling notes.  Unfortunately the more sophisticated a seller, the more knowledge they might have for manipulating the situation.
Here are a few simple items you can research:
Is the selling entity in good standing with the state?
Who is an authorized signor and decision maker?
Can they provide references of people they have worked with and can you talk to them?
How long have they been in business?
What does an inexpensive background check reveal on the seller?
Does an online search show any lawsuits, judgments, bankruptcies or liens against them?
Are they properly titled and can evidence their ownership of the asset?
What kind of reps and warranties are in their Purchase Agreement?
In the words of Ronald Reagan "Trust but Verify." Or, when it comes to our hard earned dollars let's "Verify then Trust."
When working with third party sellers there is a review process before accepting assets to list on the NotesDirect platform including collateral file documentation and verified outside servicing. While this doesn't replace an investor's own due diligence it is important to know sellers have been through this preliminary vetting process.
For this month's Trading Corner we take a look at three recent notes purchased on the NotesDirect platform.
Battle Creek MI Performing – Sold
BPO $59,900
UPB  $34,234 @ 10% $324.70/mo. 255 months
Purchase Price $32,483 (95% of UPB)
Discount $1,751
LTV 57% / ITV 54%
Anticipated Yield 10.75%
Rochester NY Performing – Sold
BPO $86,900
UPB $49,631 @ 3.5% $220.51/mo. 367 months
Purchase Price $24,125 (49% of UPB)
Discount $25,506
LTV 57% / ITV 28%
Anticipated Yield 10.52%
Waynesboro GA Performing – Sold
BPO $44,000
UPB $28,590 @ 8.18% $274.92/mo. 182 months
Purchase Price $24,085 (84% of UPB)
Discount $4,505
LTV 65% / ITV 55%
Anticipated Yield 11.14%
Happy Note Investing,
Tracy Z Rewey
[email protected]
In The Spotlight
The Three Most Important Things in Real Estate
By: Jeff Watson (reprinted with permission)

If you have been involved in real estate for any length of time, you've heard it said that the three most important things when it comes to real estate are "location, location, location." I've heard nationally-recognized experts say that over and over on national media. I must politely but emphatically disagree. I believe the three most important things when it comes to real estate are "location, timing and circumstances," and here's why.
Just yesterday I drove past a location that I have been driving past for 40 years. Yes, 40 years. That location has not moved one wit on any GPS or map. Now, all these years later, massive construction is taking place in that spot. Why is this of interest? Because just a couple years ago, I was part of a group of investors who held an option for a year to buy that property. I was searching for a developer to bring in to put a truck stop there. Well, I was about two years too soon, because that is what is going in there now. Regrettably, my business colleagues and I do not have any piece of that action.
What changed? Timing and circumstances changed. For 40 years, it was vacant, overgrown, unfarmed farmland sitting at a freeway interchange in northeast Ohio. The location never changed, but the timing and circumstances changed significantly. One of the changed circumstances is that the other truck stop at that location is doing exceedingly above what was projected. They often have a line of cars and trucks waiting to get into it. Because of where it is geographically located, it is the first place for drivers to get gas that is more affordable after having driven at least 100 or more miles coming from Buffalo, New York and heading toward Cleveland, Ohio.
While location is a key factor, it took timing and circumstances (i.e. a growing, booming economy and the need for more services for people traveling on the interstate) to make it feasible to develop the property. That property had been for sale for at least 10 years before the team in which I was involved got an option to buy it.
Here's another example. As a young child growing up in Colorado, there was a mega mall called Cinderella City that was a destination everyone looked forward to visiting. In the 40+ years since leaving Colorado, I've learned that Cinderella City became a struggling, declining mall that was eventually bulldozed to make way for low-income housing at that site. Once again, the location did not change, but timing and circumstances did.
What makes circumstances so important is that it includes demographics and economics. There is no better place than Florida to demonstrate how timing and circumstances can change the value of a location.
When you are looking at investing in real estate, think long-term as to what you project the future timing and circumstances to be regarding that property.
Quote of the Month
"Business, after all, is nothing more than a bunch of human relationships." – Lee Iacocca
This Month's Poll Question
Connect With Us
Are you on Twitter? If so, be sure to follow us on Twitter @NoteSchool and @ColCapMgmt, if not, why not?